ARTECH'S 2017 INSTALLATION IS A BURNING MAN GLOBAL ARTS GRANT RECIPIENT ~
THE RENO PLAYA ART PROJECT:
[/fsn_text]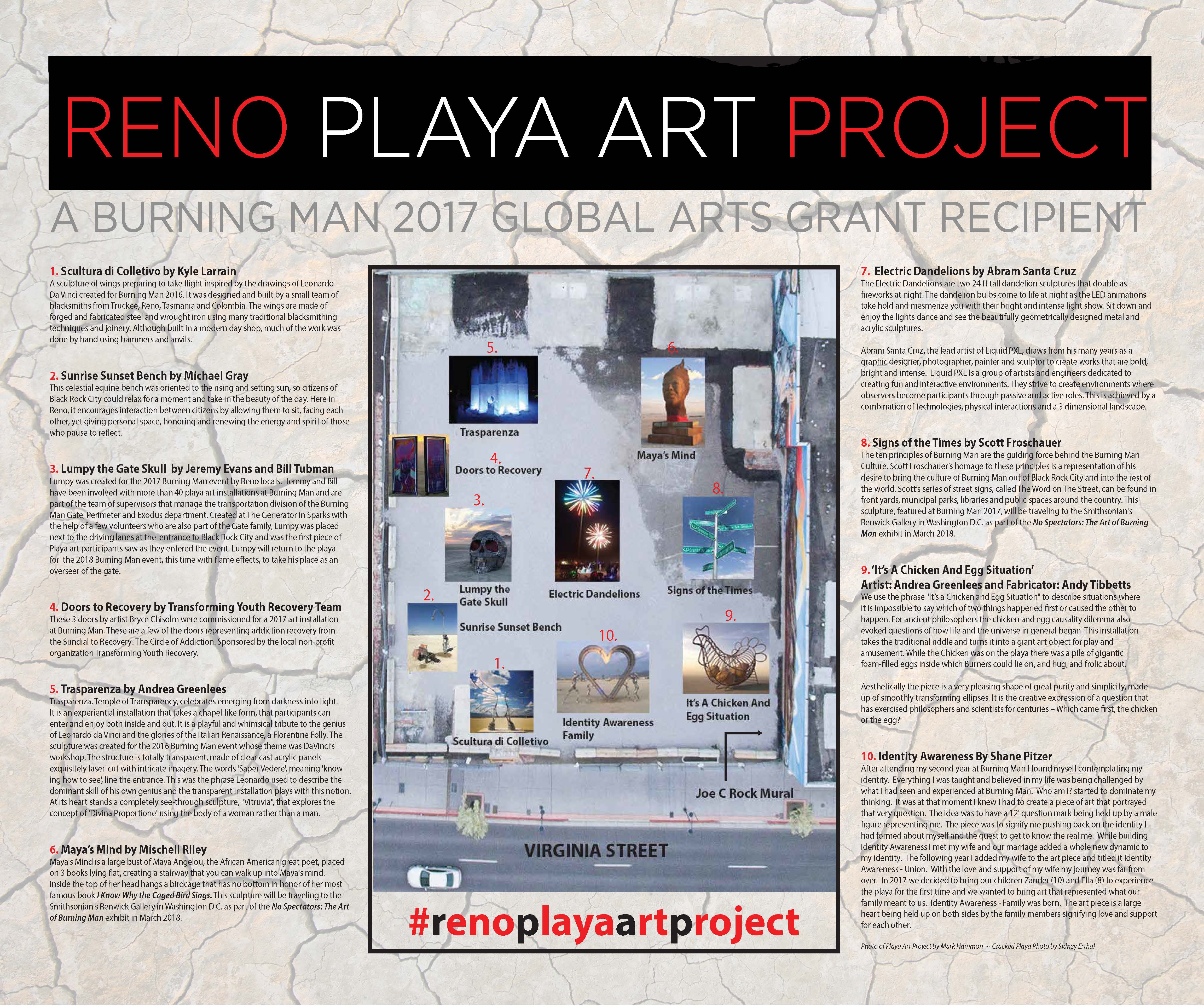 A FAMILY AFFAIR by: Shane Pitzer and Identity Awareness from Sammamish, WA
---
---
---
MAYA'S MIND by Mischell Riley is a 15 foot bronze bust of Maya Angelou. You can walk inside her mind and see and read her poetry and life story.
---
---
Leonardo Da Vinci created for Burning Man 2016. It was designed and built by a small team of blacksmiths from Truckee, Reno,
Tasmania
and Colombia. The wings are made of forged and fabricated steel and wrought iron using many traditional blacksmithing techniques and joinery. Although built in a modern day shop, much of the work was done by hand using hammers and anvils. 
 is a sculpture of wings preparing to take flight inspired by the drawings of
---
ELECTRIC DANDELIONS 
by 
Liquid PXL
, lead artist Abram Santa Cruz
Electric Dandelions are three 23-27 ft tall dandelion sculptures that double as fireworks at night. They come with a sound reactive controller and are iPad controlled.
---
TRASPARENZA
"Trasparenza is a transparent structure resembling a sparkling crystal crown," according to the city of Reno's list. "Twelve turreted triangular towers form a chapel-like installation. It will be made entirely of clear cast acrylic panels laser-cut with intricate detail. The imagery of the lower panels represents the heraldic emblems of the master guilds of Florence and a Medici coat of arms represents philanthropy. The laser-cut motifs on the inner walls illustrate Leonardo's lifelong preoccupations including geometry, architecture, engineering, hydrodynamics, aerodynamics, anatomy and painting. The arches through which participants enter and leave feature the inscription SAPER VEDERE, meaning "knowing how to see." A humanist chapel, Trasparenza is a place for Reno citizens to play in and pray in."