Public Art Installations
Artech's mission is providing unique experiences by creating community-gathering spaces around art, like the Playa Art Park and the Artech warehouse space itself. We work to engage the community in an active way, not making people simply witnesses to art.
2020

Reno Playa Art Park sculptures go to Franktown Meadows Equestrian Facility in Washoe Valley for a temporary art installation.
We are thrilled to have several Burning Man sculptures from Reno's Playa Art Park temporarily installed at Franktown Meadows Equestrian Facility. Apocalypto by Adrian Landon It's a Chicken and an Egg Situation by Andrea Greenlees fabricated by Andy Tibbets Lostmachine Andy at the Generator, Scultura di Colletivo (DaVinci Wings) by Kyle Larrain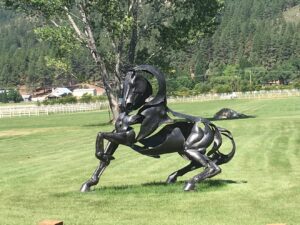 Apocalypto by Adrian Landon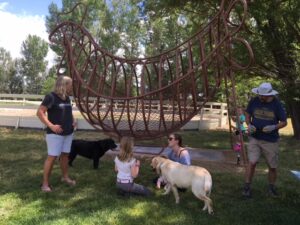 It's a Chicken and an Egg Situation by Andrea Greenlees, fabricated by Andy Tibbets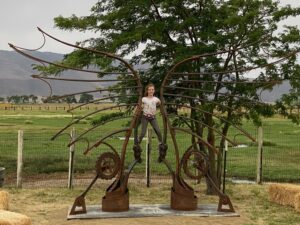 Scultura di Colletivo (DaVinci Wings) by Kyle Larrain
2019

"Jacobs Entertainment—the Colorado-based developer that purchased much of the neighborhood west of downtown, including the Sands and Gold Dust West casinos—last week installed four large Burning Man sculptures along Fourth Street, between West and Ralston Streets.
I talked with Maria Partridge about some of the decisions behind the installation. She's the project manager for Burning Man, executive director of Artech and curator at Sierra Arts. For this project, known as the "Neon Line," she's been a consultant and adviser."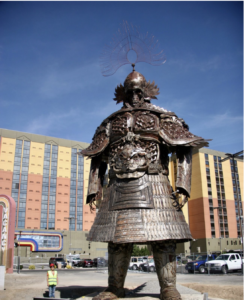 https://www.doublescoop.art/behind-the-neon-mile/
Desert Guard by Lu Ming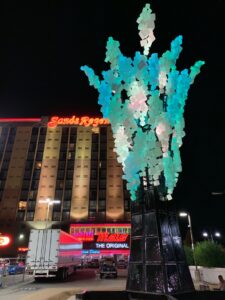 Squared by Charlie Gadekan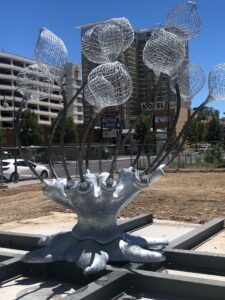 Bloom by Michael Christian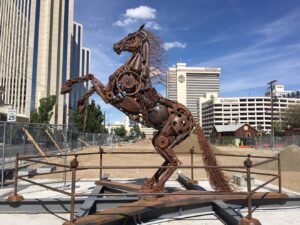 Rearing Horse by Barry Crawford
2017
2 sculptures from the Reno playa Art Park go to Davis California for temporary placement in 2 different parks.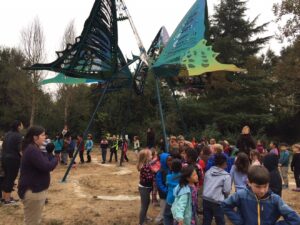 "Imago" was built by artist Kirsten Berg, and features a 17-foot-tall kaleidoscope of butterflies for viewers to wander through. The sculpture will be placed in Walnut Park on Lillard Drive in South Davis by Nov. 8.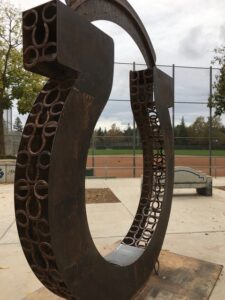 The "Good Luck Horseshoe," by Michael Gray and an artists' collective, will be installed behind one of the backstops at Playfields Park in South Davis. Made of recycled materials, the horseshoe stands 12 feet tall and will give locals the opportunity to walk around and pose with the new sculpture.
Davis and Artech Press
http://www.davisenterprise.com/local-news/a-piece-of-burning-man-is-coming-to-davis/
http://www.davisenterprise.com/community/butterflies-soar-at-park/attachment/sculpturew-2/
http://www.davisenterprise.com/local-news/a-whole-lotta-good-luck/