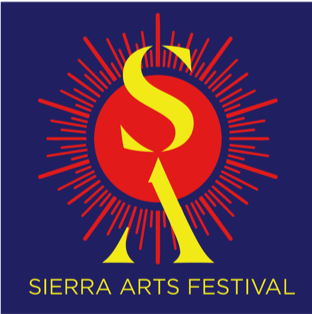 SIERRA ARTS FESTIVAL 2021
Where: Downtown City Plaza
Saturday, June 26 starting at 10 am Street Party with music, Art Cars, food and performers! Booths Open!
Saturday, June 26 from 8 – 9 pm Northern Nevada's premier fire performance group Controlled Burn,
will spin fire to music
All day throughout the art fair, there will be a variety of local food trucks, wine and beer concessions.
A stage featuring live music and performance. A special Cre8tive Zone will feature interactive art projects for children and adults of all ages.
FEES: The booth fee for artists is $50 for Sierra Arts Members and $65 for non-Members for a 10' x 10' space, $75 for a 10' x 20' space. 10% commission on sales. (Artists to provide their own white top tent/booth/wall setup.)
All artists are invited to submit applications to participate. Artwork that is inappropriate for public display will not be considered. (Examples of inappropriate work would include, but are not limited to, pieces that are sexually explicit, or potentially offensive in nature.) We are a family friendly, all ages events.
To be considered, artists must be able to attend all day of the art fair Saturday, June 26 – set up starting at Art Festival is open from 10 am – 6 pm. Entertainment continues until 9 pm. Artists will be notified by May 1, 2021 based on space availability – first come first served basis. If they are selected. Artists are liable for their display and work. The display and work need to be secured in case of high winds. Artists must provide their own liability insurance.
Submission Process Artists must provide the following:
 A brief statement describing your artwork
 A portfolio representative of work for sale during the art fair.
 Portfolios may be submitted as .pdf or .doc files by email.
VENDOR TENTS AND FOOD TRUCKS WELCOME – $200 fee – applications available!
Send questions and email entries to: val@sierraarts.org
Sponsored by: