Reno Neon Line
The Neon Line District is a proposed, private developer infill redevelopment effort located in Downtown Reno. The District is anticipated to be a dynamic, mixed-use entertainment district that proposes to include the construction of 2,000-3,000 residential units, the expansion, renovation, and rebranding of the Sands Regency Casino Hotel, world class artwork from both local and international artists, and an array of other commercial, retail, plaza, green space, convention an entertainment venues.
Reno's Neon Line District is proud to feature a collection of world class art including sculptures formerly at Burning Man festival. These art installations will blow your mind and tap into your soul. Snap a photo and tap into the wild creativity at Reno's Neon Line District.
FOURTH STREET – STARTING AT WEST STREET:
Michael Christian
Bloom
Burning Man 2018
steel
inspired by the beauty, form and design of nature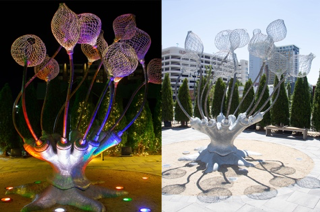 Tara Mechani
By Dana Albany
Burning Man 2017
Tara Mechani is a modern day representation of the female Buddha, Tara, intermingled with future characteristics of the robotic. She encompasses both the past and the future, melding worlds of ancient wisdom ideology with future mechanics and technology.
The sculpture is composed of 80% recycled materials.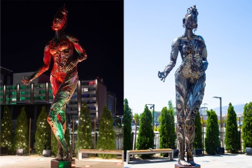 SQUARED
Charles A. Gadeken
BM in 2014
Steel, plastic, wood, light and magic
SQUARED is an other-worldly totem of gigantic proportions, the product of a futuristic world post-nature. This tree reflects the universe of complexity, mystery, and serendipity that defines our journey through time and emergence into the future age. SQUARED represents the evolution of organic matter and its amalgamation with digital technology.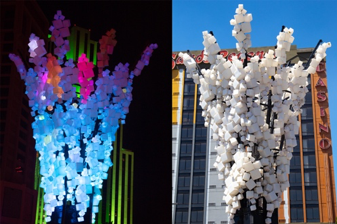 Rearing Horse
Barry Crawford, Crawford Metal Works
Burning Man 2018
Steel/Found Objects
Rearing Horse is a large scale kinetic sculpture. The sculptures mechanical effects include moving front legs, mane, tail, neck, and ears, all of which can be controlled by turning cranks on the sculpture's perimeter fence. Rearing Horse is made almost entirely from repurposed parts of old machinery found in junk piles.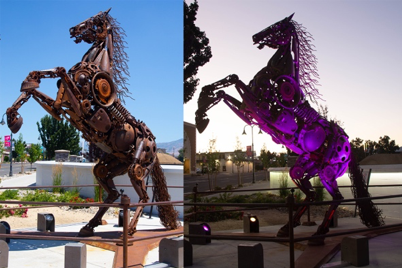 Broken but Together
By Michael Benisty
Burning Man 2019
Mirror polished stainless steel
Showing a more fragile side of relationships.
Supporting each other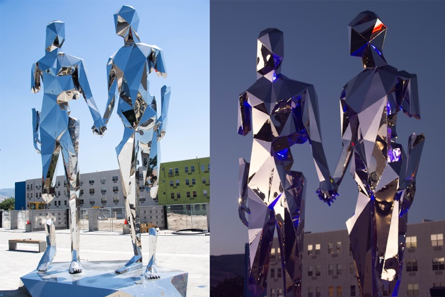 Long View: A Polar Bear Stands in the Desert
By Don Kennell and Lisa Adler with DKLA Design crew: Zach Greer, Caleb Smith, Miguel Lucio & Joel Sisson
Burning Man 2018
Steel, 100 recycled car hoods and glass eyes.
Edna the polar bear is an arctic ambassador making the connection between habitat loss and our carbon footprint.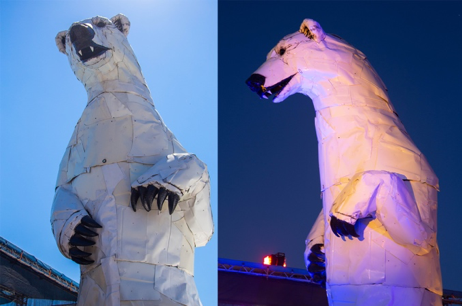 Bee Dance
Andrea Greenlees
Digital Design: Josh Haywood
Fabrication: Andy Tibbetts
Burning Man 2019
Steel and Copper
'Bee Dance' celebrates one of the most fascinating examples of communication in the natural world. It is a whimsical and inviting art installation in the form of two gigantic Dancing Bees, their legs entwined and their heads touching in a bee kiss. On their feet they wear gleaming copper ballet shoes with copper ribbons.
Forager bees leave the hive to find nectar and pollen and when they return they perform an intricate dance routine to communicate the distance and direction of the food resources to the other bees.
This installation reminds us that there is nothing more marvellous than that which already occurs in nature. It also serves to remind us of the crucial role played by honeybees in our own survival, at a time when the world bee population is declining.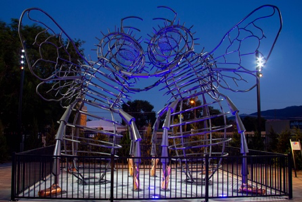 Michael Christian
Sprout
Commissioned for the Reno Neon Line
Location TBD – recently moved from Fourth and Washington St for casino expansion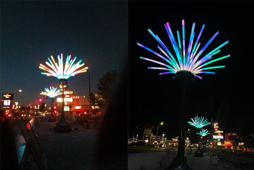 Desert Guard
Lu Ming and the Beijing Burners
Burning Man 2018
Lu Ming's design is inspired by the armor of Genghis Khan whose Mongolian empire ruled China during a part of the 14th century. The Mongolian army resisted their enemies' aggression thanks to Genghis Khan's military tactics, a strong system of weapons and their special armor. It had a very primitive but effective shock absorbing and impact diverting system. This art piece enlarges the armor to a height of 15 metres weighing 10 tons and embedded the soul of a Mongolian warrior. It wants to remind everyone, that we must never use artificial intelligence for war. Otherwise, humanity creates weapons that kill us. We hope that this warrior makes us realize that we shouldn't only worship technology, but also put restrictions in place.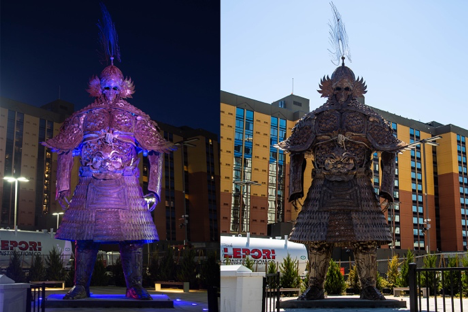 Reno Experience District (RED)
RED, is an acronym for 'Reno Experience District.' It is both a world of its own and a part of the world's biggest little city. RED features two new luxury apartment communities, a 2-acre public park with a jumbo LED screen, retail, and a hotel with much more!
RED, located on Plumb and Virginia St. This prime location in Central Reno places people amidst the city's finest cultural experiences as well as minutes away from downtown, midtown, and the Reno-Tahoe airport. As Reno's premier urban playground, RED will add to the city:
1,300 Luxury Apartment Homes/li>
65,000 sq. ft. of Curated Retail
170-Key Element Hotel
83 Flex-Stay Apartments for Corporate Travelers
Indoor/Outdoor Market Hall
2 Acre Public Park
Entwined by Charlie Gadekan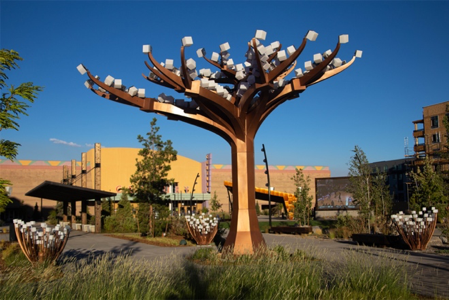 Passage by Dana Albany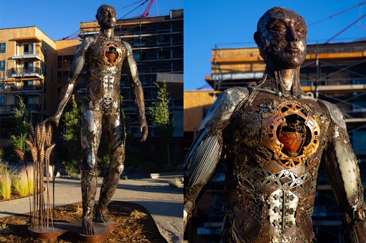 Playground by Michael Christian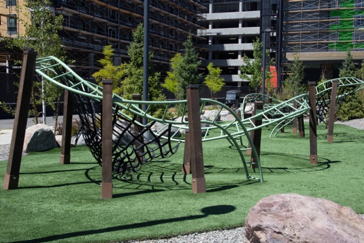 MARIA PARTRIDGE is the Executive Director for Artech and has been producing Playa Art Park since 2016. As a Project Manager for Burning Man since 2012, Maria has been working with artists from around the world to create safe, interactive sculptures for the event. She has been on the Board of Advisors for Burning Man's nonprofit art organization the Black Rock Arts Foundation since 2008. Working as the civic arts liaison in Reno she has placed temporary installations of Burning Man art in downtown Reno on an annual basis. Maria has served on Reno's Arts and Culture Commission and the Public Art Committee. In the past 5 years Artech has commissioned and placed existing Burning Man art in 14 locations. Working with cities: Reno and Sparks, Washoe County and local businesses the following sculptures have been either commissioned, purchased or temporarily placed with 3-5 year contracts.