Painted Chairs
Auction & FUNdraiser for ARTECH
SATURDAY, SEPTEMBER 12, 12 – 4 PM
CHAIR-ity — will showcase the work of local artists while raising money for ARTECH – a local non-profit art organization. Artists will have the option to receive 30-50% of the auction price with the remainder going to ARTECH.
ONLINE AUCTION: September 1 – 10, 2020
https://www.32auctions.com/ArtechCHAIRity
Local artists are invited to paint our solid wooden chairs to be auctioned in the online "CHAIR-ity" scheduled for September 1-11, 2020 with an outdoor reception, exhibition of chairs and final bidding on Saturday, September 12 from noon to 4 pm. There will be live music by Colin Ross and refreshments.
Contact maria@artechreno.org for more information!
CHAIR: BEFORE …………………… AND …………………AFTER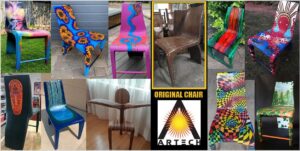 Clockwise: Bryce Chisholm, Reilly Moss, Holly Carso, Daylene Moss, Lisa Marcosa,
Jaime Shafer, Carol Ansberry, Jenny Herz, Kathleen Hallamore